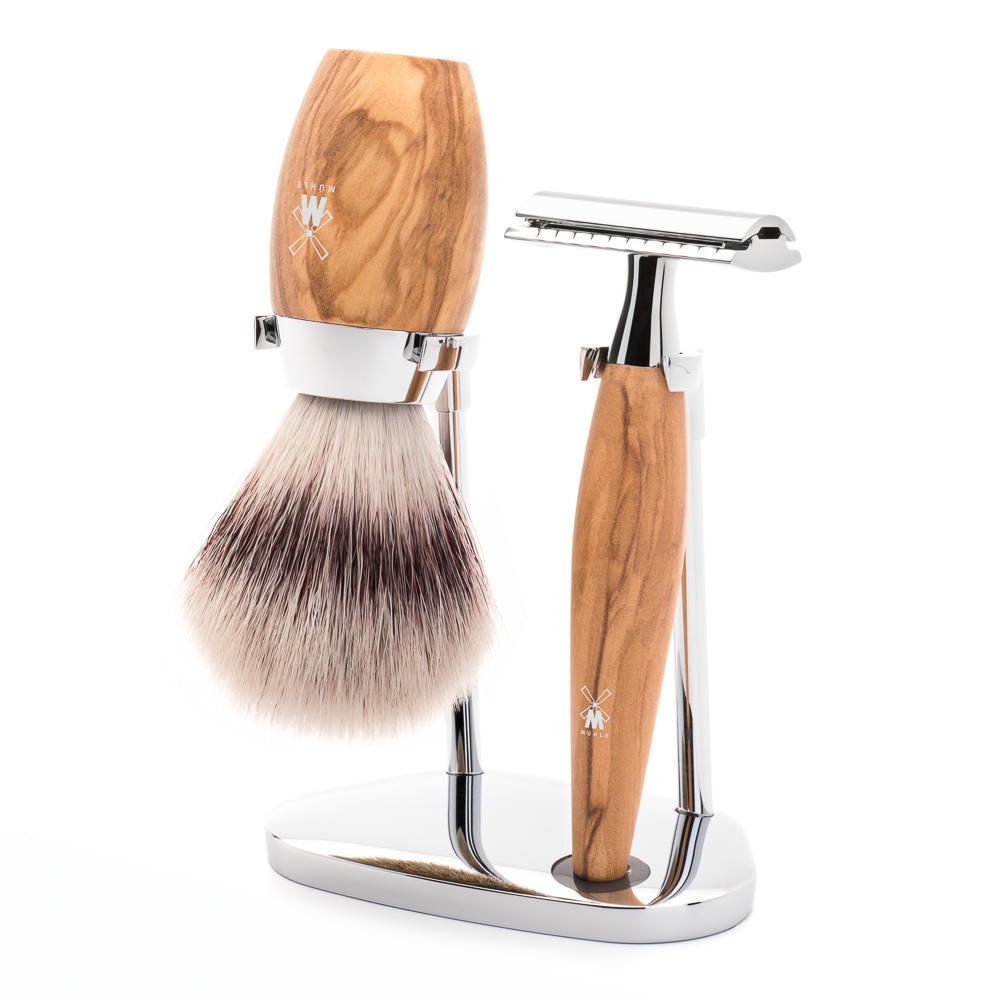 MÜHLE Kosmo Olive Wood 3-Piece Silvertip Fiber & Safety Razor Shaving Set
3-part shaving set without bowl, handles of olive wood with chromed metal accents:
Shaving brush with Silvertip Fiber
Shaving brush size M = medium shaving brush head with 21 mm ring to screw off
Closed Comb Safety razor, compatible with classic razor blades
Stand made of metal, chrome-plated
The Material - Olive wood
Since ancient times, olive wood has been valued for its outstanding material characteristics and warm colouring. It is to be found throughout the Mediterranean region and has been used for centuries to make durable goods or artistic objects.
The wood we use must be dried carefully for months before the handles are turned. We then sand the surfaces, seal them with oil and polish them to a silky finish. This brings out the gentle, honey-coloured grain of the wood particularly well.
Without chrome the world would forfeit a lot of its lustre. In the finish used for our wet shaving accessories it demonstrates its best qualities: The material is corrosion-resistant, very long-lasting and has a luxurious, alluring lustre. When contrasted with this, the colours and shapes of other premium materials are shown to their very best advantage.
The Brushhead - Silvertip Fiber
The high-quality synthetic Fibers represent a world first of our own invention. We offer a synthetically produced premium quality whose material characteristics are analogous to those of the precious natural hair, silvertip badger. The majority of the users even say that this quality actually provides better performance characteristics than the natural hair.
'Silvertip Fiber' is very soft at its fine tips, but somewhat more stable than natural hair in the middle section. These characteristics produce a pleasant, soft sensation on the skin when the lather is applied, without having to forgo the desired firmness of the hairs in the lathering process. In daily use, the manually processed Fibers are less sensitive than natural hair as they dry more quickly and are resistant to shaving soaps and creams.
The completely vegan Fibers are also somewhat easier to use than natural hair as they produce a particularly creamy and thick lather from a small amount of shaving soap or cream, which is used much more sparingly as a result.
The Razorhead - Classic razor blade
For generations, the safety razor has been regarded as a stylish classic which can even shave edges with precision. For many, it is the razor par excellence. Its styling is ideally suited to the design of the MÜHLE products.
Even if the open blade does demand a little respect at first: After a brief familiarisation period, and guided by a steady hand, it produces a very close shave and a lasting result. Unlike modern blade systems, the head of the safety razor does not move. The blades are replaced by unscrewing the cap. They can be purchased from us and by retailers everywhere.
We recommend our rust-proof MÜHLE razor blades which are the perfect match for our safety razors.