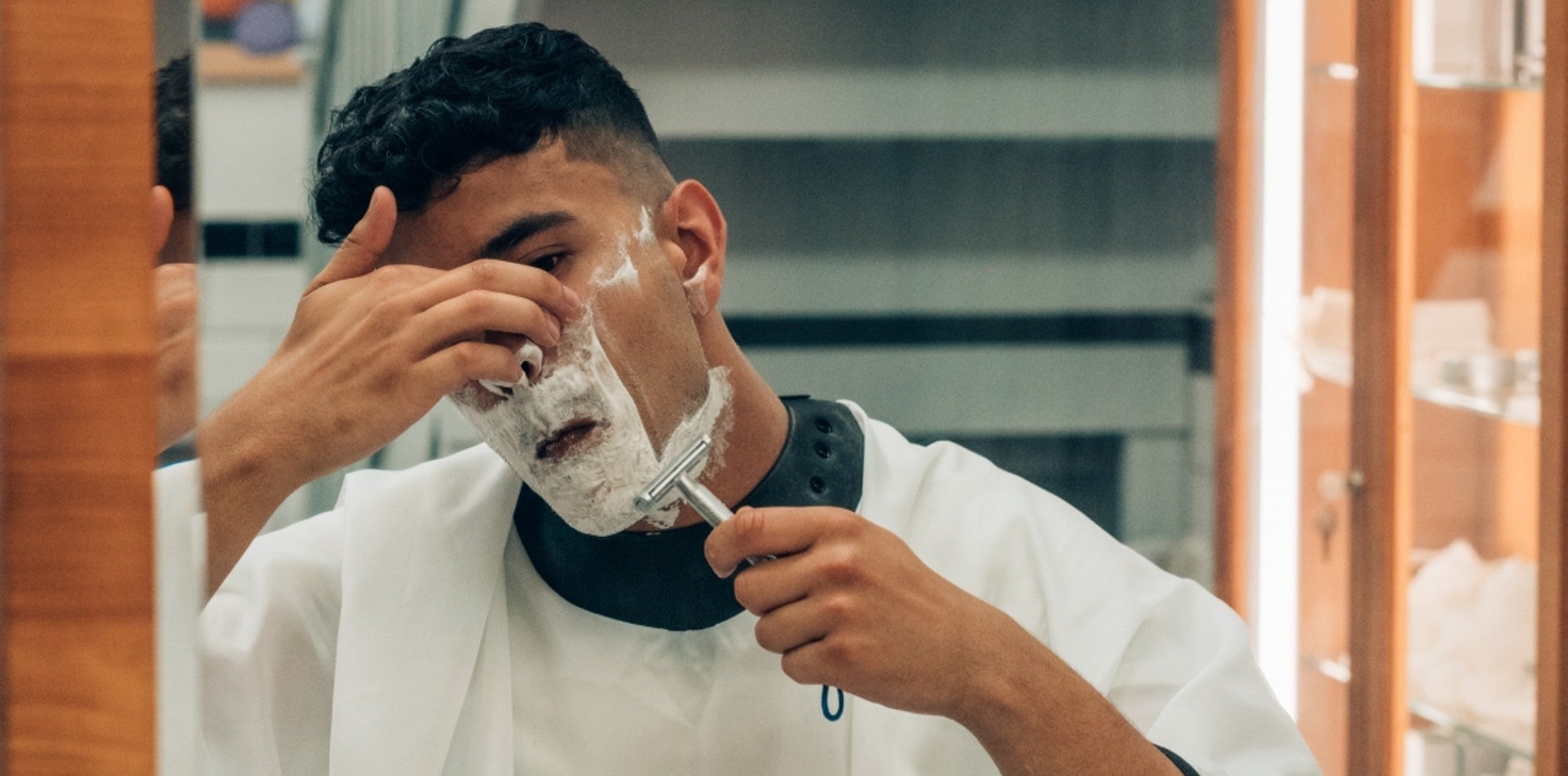 Shaving FAQS for Oily Skin
Shaving can be a tricky one to master for those who are prone to acne, razor burn, in-grown hairs, and oily skin. If you're looking for some advice on where to start– see below as we explore our top tips for oily skin shaving and ultimate habits to avoid!
Step 1/ Cleanse the Skin
Attracting more debris over the course of the day compared to drier skin, one of the first steps to any pre-shave routine should be regular, gentle cleansing. Whilst tempting to strip the skin of all its natural oils, oily skin can be caused by damaged skin, so it's important to use a gentle cleanser – your skin will only over-compensate and produce an excess of oil! That being said, you'll still want to make sure any debris is removed from the skin before shaving as this can lead to further irritation.
Uniting the best nature has to offer, the MÜHLE ORGANIC face wash is designed to gently cleanse, containing no synthetic fragrances or colourants.

Step 2/ Change that Blade
One of the easiest ways to avoid unnecessary irritation, changing your blades frequently ensures your razor remains clean and sharp. Not only dragging the hair, dull blades can also be a breeding ground for bacteria causing further skin damage.

Step 3/ Consider Swapping Your Cartridge Razor for a DE Razor
Reducing the number of blades and their cost is a sure fire way to lessen the chances of creating breeding grounds for bacteria. Safety Razors, also known as Double Edge or DE Razors use only a single blade, and are much easier to clean and economical to replace, making them an ideal swap for irritation, or acne that is triggered by bacteria whilst shaving (razor burn).

Step 4/ Ingredients to Avoid
Oilier skin can be more sensitive, so when selecting your pre and post-shave care products you'll want to avoid ingredients such as sulphates, fragrance and alcohol- all of which can irritate the skin.
The nourishing MÜHLE ORGANIC Shaving Cream, enriched with Argan oil, creamy waxes and glycerine to ensure maximum protection whilst shaving.


Step 5/ Always use Protection
Potentially overproducing oil because the skin is damaged and dehydrated, you'll want to ensure that the skin is properly lubricated before shaving. Forming a protective barrier between skin and blade, pre-shave oil, moisturising shave cream or soap all help to limit damage and reduce friction.

Step 6/ With the Grain
Whenever you're shaving, but especially if you're shaving with acne, it's important to apply gentle pressure with your hand onto your face, letting your razor do most of the work. Shaving with the grain (in the same direction that your hair grows) is also recommended for a more comfortable shave.
*Top Tip: . If you're shaving against the grain to achieve a closer shave, we recommend you try a Closed Comb Safety Razor (if you are not using a Safety Razor already) and if you are and still want a closer shave why not give the Open-Comb razor head a try? These are suitable for anyone who is accustomed to using a safety razor and wants a super-close shave. The head can be purchased independently and attaches to most MUHLE DE Razor handles.
Step 7/ Replace moisture
Don't forget to moisturize when you're done! After shaving, your skin can be irritated and likely lose moisture at a faster rate. Encouraging the skin to produce oil at a faster rate (to replace what has been lost), dehydrated skin can also lead to acne and hyperpigmentation so we would always recommend using a nourishing aftershave balm or moisturizer at the end of your shaving routine.
Like what you're reading? Here are some MÜHLE USA blog recommendations for you:
Your Organic Skincare Routine
Shaving FAQS for Sensitive Skin
---